Mandatory Commercial Recycling
Assembly Bill 341 (AB 341), commonly referred to as "The Mandatory Commercial Recycling Law", set forth mandatory statewide commercial recycling requirements that became effective on July 1, 2012.  This law requires businesses and multi-family residential dwellings (five or more units)  to arrange for recycling services. Common mixed recyclables include, but are not limited to the following materials: plastic containers, cardboard products, paper products, metal products, glass, and other items.
A property owner of a commercial business or multi-family residential dwelling may require tenants to source separate their recyclable materials to aid in compliance with this section.
Source separate recyclable and/or compostable material from solid waste they are discarding and either self-haul, subscribe to a recycling program through a waste hauler, and/or otherwise arrange for the pick-up of the recyclable and/or compostable materials separately from the solid waste to divert them from disposal.

Subscribe to a service that includes mixed waste processing alone or in combination with other programs, activities or processes that divert recyclable and/or compostable materials from disposal, and yield diversion results comparable to source separation.

Property owners of commercial or multi-family residential dwellings may require tenants to source separate their recyclable materials. Tenants must source separate their recyclable materials if required to by property owners of commercial or multi-family residential dwellings.
Effective July 1, 2020, MCR and MORe covered businesses must provide organics and recycling containers at front-of-house to collect waste generated from products purchased and consumed on the premises (AB 827, McCarty, Chapter 441, Statutes of 2019).  These containers must be placed adjacent to trash containers and be visible, easily accessible, and clearly marked.
This law impacts businesses that sell products meant for immediate consumption.
Full-service restaurants do not have to provide containers for patrons, but must provide containers for employees to separate post-consumer recyclables and organics for customers.
Business Definition per AB341
What is the definition of a "Business" according to the Mandatory Commercial Recycling Regulations?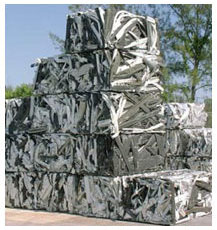 "Business" means any commercial or public entity, that generates four or more cubic yards of commercial solid waste per week, including, but not limited to, a firm, partnership, proprietorship, joint-stock company, corporation, or association that is organized as a for-profit or nonprofit entity, strip mall (e.g. property complex containing two or more commercial entities), industrial facility, school, school district, California State University, community colleges, University of California, special district or a federal, state, local, regional agency or facility. For purpose of AB341r "business" also includes a multifamily residential dwelling of five units or more, regardless of the amount of commercial solid waste generated. 
Business Recycling Links
Business Recycling
AB341 Mandatory Commercial Recycling
AB1826 and SB1383 Mandatory Organic Recycling
Construction & Demolition Recycling
Business Waste Wise Champion
Waste Guide
Business Recycling Documents (pdfs)
MCR/MORe Compliance Form (English & Español)(Japanese )
Wasted Food - Food Waste Flyer (English)(Español)
CalRecycle Organics Recycling Guide for Business (English | Español)
Design Guidelines for Refuse & Recyclables Collection and Loading Areas
Organics Processing Guidelines
Useful MCR Links
Contact your waste hauler
AB 341 Regulation
CalRecycle Mandatory Commercial Recycling Information
Commercial Climate Calculator - This calculator is designed for virtually any California business or multifamily residential dwelling to assess the financial, climate change, and waste reduction/environmental benefits of reducing and recycling their discarded materials. In doing so, businesses can reduce greenhouse gas emissions, and keep reusable and recyclable material out of landfills.
RCDWR June 28, 2012 Press Release
Image