Business Recycling
Many businesses in Riverside County already do a great job of recycling. They are helping to keep reusable resources out of the landfill and are reducing their own disposal costs. According to 2018 Statewide Waste Characterization data, the commercial sector generates more than half of the solid waste in California.
Recyclable material types can include, but are not limited to: paper, plastics, glass, metals, cardboard, green waste, food waste, and construction and demolition materials. While significant commercial recycling already occurs, much of the commercial sector waste disposed in landfills is clean enough to be recycled.
With the passage of AB341 Mandatory Commercial Recycling, AB1826 Mandatory Organics Recycling, and SB1383 Short-lived Climate Pollutants, California is one of the first states in the nation to enact a statewide program to reduce greenhouse gas emissions by diverting commercial solid waste and organics from landfills.
All businesses can benefit from recycling,and the Riverside County Department of Waste Resources wants to help you recycle as much as possible. Click on the links above to find additional information.  Additional business waste reduction tips and resources can be found on CalRecyle's website.
NEW Service Rollout Information
California businesses are required to participate in recycling and organic recycling programs to minimize waste going to the landfill.  Your solid waste hauler, will be implementing these services and deploying new collection containers in 2021.  These new services may affect your service date and your hauler will alert you to any changes in the coming weeks. Rates for these services will go into effect once collection services begin.  These program changes are mandated by State and County laws. 
County Ordinance 745requires all commercial businesses and multifamily residential dwellings within the unincorporated county to subscribe to a three bin collection service, which consists of trash, recycling and organic recycling.  This ordinance requirement is supported by Assembly Bill 341(passed in 2012) requiring recycling services and Assembly Bill 1826 (passed in 2016) requiring organic recycling.  There are potential waivers for self-hauling, de minimis waste, or lack of space for bins.  If you feel you qualify, please contact Riverside County Department of Environmental Health Solid Waste Program at (951) 955-8980 or LEA@rivco.org.
Presentations for unincorporated county accounts (links below) will be conducted virtually so that you have the opportunity to hear more details about the new services and ask questions of the hauler and Riverside County.  Assistance in evaluating your overall solid waste needs is available through your waste hauler.  A free waste assessment and assistance is available to you in making any necessary changes in service to comply with the law. For unincorporated business and multifamily dwellings only.
CR&R
Five R's of Responsible Waste Management - REDUCE, REPAIR, REUSE, RECYCLE, AND ROT.
If you commit to these five actions, there is little that must be thrown away. Choosing to follow the Five R's ensures that resources are saved and/or reused, and the volume of waste is reduced. By keeping these actions in mind when purchasing, using, and disposing of materials, you will have done more than your share to keep our county clean and beautiful.
Business Recycling Links
Business Recycling
AB341 Mandatory Commercial Recycling
AB1826 and SB1383 Mandatory Organic Recycling
Construction & Demolition Recycling
Business Waste Wise Champion
Waste Guide
Business Recycling Documents (pdfs)
Wasted Food - Food Waste Flyer (English)(Español)
CalRecycle Organics Recycling Guide for Business (English | Español)
Design Guidelines for Refuse & Recyclables Collection and Loading Areas
Organics Processing Guidelines
Image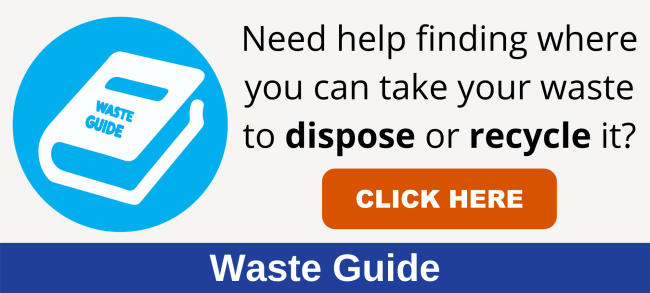 Using less paper in the first place means you'll save money, fewer trees will be cut for paper pulp, less energy and water will be wasted in the manufacturing process, and fewer greenhouse gasses will be produced. Develop a habit of thinking ahead about what you use; it may affect your purchasing needs.
When printing a document, consider whether you really need the whole document. Instead of printing multiple pages, you may only need one or two.

If you do need to make printed copies, try to fit either two or four pages on one paper if possible. Then simply cut the stack in half or into quarters on a paper cutter.

When photocopying, only make the necessary number and copy on both sides whenever possible.

Use fewer sticky notes by keeping an Outlook or on-line calendar.

When proofreading a document, try to do it on your computer screen instead of printing a hard copy to mark up. It will save you time, ink/toner, and paper.

Check to make sure that you and your business only receives copies of newsletters, newspapers, and magazines that are really necessary. Share these periodicals with others. Sign-up for electronic newsletters when possible.

Instead of copying and sending materials to employees, send them an e-mail or post your message on a common site.

Purchase items in refillable containers and buy in bulk whenever possible.

Look for merchandise with little or no packaging when making purchases.
Many items that we would normally throw out can be repaired, upgraded, or reused. This is usually cheaper than buying a new one and saves the space of disposing of the old one. These items include office furniture and equipment, lighting fixtures, electronics, and automotive parts.
Consider reupholstering, refinishing, or donating old furniture to be used again.

Have equipment repaired instead of buying new.
Use the blank backs of copies for scratch paper.
Reuse envelopes, folders and boxes when possible.

Bring your own plate, silverware and coffee mug to work instead of using disposable ones. With a little soap and water, you'll be good to go for next time!

When buying a new product, take into consideration its potential life span. Will it last a long time, and is it able to be repaired if broken?
Take the next step and begin purchasing at least 30% post-consumer recycled content paper for your copying needs.

The following are a few items commonly found around the office that can be recycled.

Copy/printer paper

Manila/file folders

Soda/water bottles and cans

Phone books

Notepads (with wire removed)

Magazines and newspapers

Cardboard

At work, ask your suppliers if they will back haul empty containers, pallets, and cardboard to be reused.

For a complete list of recyclable materials, please contact your refuse hauler. If your refuse hauler does not provide recycling for a particular material, please contact the Riverside County Department of Waste Resources at 951-486-3200, check your local yellow pages for a recycler, or check out the Waste Guide for recycling options for many different waste streams. Prepare your recyclables according to the directions given by your recycling provider. This will make it easier and less costly for them to continue providing these services.

Use the information in the Waste Guide to recycle as much as you can!

For local recyclers in your area, go to the Earth 911 website or call 1-800-CLEAN-UP
Set up a compost pile to compost lawn and landscaping trimmings.