Five R's of Responsible Waste Management
REDUCE, REUSE, REPAIR, RECYCLE, AND ROT
Many communities in California offer curbside collection or drop-off sites for certain recyclable materials. Collecting materials is only the first step toward making the recycling process work. Successful recycling also depends on manufacturers making products from recovered materials and, in turn, consumers purchasing products made of recycled materials.
Do your part--"close the loop" and buy products made of recycled materials whenever possible.  To discover the many different and innovative ways to recycle, please take a look the Five R's below to find out how easy it is to reduce, repair, reuse, recycle, and rot your waste at home.
If you commit to these five actions, there is little that must be thrown away. Choosing to follow the Five R's ensures that resources are saved and/or reused, and the volume of waste is reduced. By keeping these actions in mind when purchasing, using, and disposing of materials, you will have done more than your share to keep our county clean and beautiful.
Recycling Options for Common Household Items
Image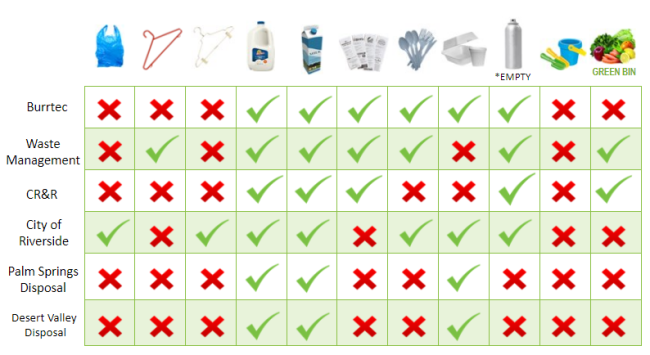 *only empty aerosol cans can be placed in the recycle bin, otherwises please refer to the Waste Guide on Universal Waste
Residential Recycling Flyer
Residential Recycling pdf ENGLISH
Residential Recycling pdf SPANISH
Business Recycling Links
Mandatory Commercial Recycling
Construction & Demolition Recycling