What is Lend-A-Bin?
Are you hosting an event in Riverside County and need Recycling Bins?
The Riverside County Department of Waste Resources has a limited number of portable recycling bins available for beverage container recycling collection at events on a first come first served basis. These recycling bins have proven very successful in the recovery of clean materials and aiding litter control at events. 
The program is available to cities, community groups, non-profit organizations, businesses and others who wish to collect and recycle materials generated at events held in Riverside County. 
To borrow the  bins, the event contact person must complete and submit an application. Bins are reserved in the order properly completed request forms are received.
There is NO CHARGE to borrow the bins. However, a credit card and signature will be required upon bin pick-up. There will be no charge as long as the post event report is submitted within two weeks of your event and the bins are returned intact and clean.
 Submit a Request
Please note that the bins are available for the on site collection of recycling at events only; collection and transport of materials for recycling is not included. Arrangements for transportation can be made with either the waste hauler or local community group who might want to recycle the material as a fundraiser or project.
Click the link below to start the process. If you have any questions, call a Recycling Specialist at 951-486-3200.

Make Arrangements to Pick-up and Return Recycling BIns:
We'll contact you to make arrangements to pick up and return the recycling bins and bags. Transportation of bins to and from the event is the responsibility of the event's recycling coordinator or the bin borrower.
The bins are located 14310 Fredrick Street, Moreno Valley, CA 92553. Credit Card information and an authorized signature will be required. The credit card will be used as a deposit for the use of the bin(s). 
Have a Great Event and Recycle!
Thanks for thinking about how your event can be gentler on the environment. People will take notice!! We recommend that the recycling bins be placed next to the trash cans. During your event you will want to monitor and thank your guests for proper usage. Be sure to take a few action pictures! You will also want to keep track of a few items for the post event report such as number of attendees, pounds of recyclables collected, and pictures of the containers during the event.
Please be careful when setting up and tearing down so fingers aren't pinched near the hinges. 
Return the Bins:
Returning the bins is the responsibility of the event's contact person on the application. Riverside County Department of Waste Resources does not have the resources to clean the containers! Please help us make sure the bins are ready for the next group by wiping them down before returning.
Bins must be returned clean and in good condition within two (2) business days following your event. The borrower is responsible for all costs to repair or replace damaged equipment. Events that do not return the bins or return them late, significantly soiled, odorous, with stickers affixed, or damaged beyond use will be charged for replacement, cleaning and/ or late fees. The fees per unit are: 
replacement fee $91.46
cleaning fee $13
late fee $13/week
Submit the Post Event Report
A Post Event Report is due when bins are returned, but no later than two weeks after the event.  Click below to submit your report.  You will need to supply the following information.
Event name
Event date
Number of attendees
Number of pounds of recyclables collected
Pictures of containers at the event 
If any questions, please call a Recycling Specialist at 951-486-3200.
 Recycle Only Container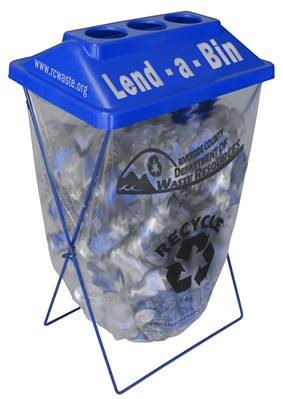 Recycle-Trash Combination Container


Community Outreach Links
FREE Classes
Schedule a Speaker
Schedule an Exhibitor Table
Visit the Education Center
Visit the Resource Garden
Order a Lend-A-Bin
Become an Outreach Volunteer
Access School Resources
RivCoRecycles Day Information
Community Outreach Files
2023 Class Schedule (English) (Spanish) 
Volunteer Flyer (English) (Spanish) 
Helpful Tips For Your Event
Thank you for recycling at your event. When planning an event please consider:
The estimated attendance for the event
The number of bins you will need for recycling and garbage collection. We recommend that recycling bins be placed next to trash bins to make it easier for participants to recycle
The types of materials you will collect: aluminum cans, plastic bottles, glass bottles, plastic cups, etc.
Collecting redeemable containers separately as a fundraiser.
Transporting of recycled material through the waste hauler or other options.
Know what can be recycled and where it can be dropped off.
Don't forget about your vendors- they generate recyclable waste, mostly cardboard boxes.
Use only clear plastic bags to collect recyclables; it makes it much easier for staff and participants to recycle
Have signage to direct participants to recycling locations.
Additional bags will need to be provided by the event coordinator. The bag size is 40'x45' and we recommend that the bags be clear so they are easily recognized as a recycling container and not a trash bin
Thank you for your commitment to recycling in Riverside County.